---
We've played our cards close to the chest, but the truth is…
The "Tuesday #RD2020" tweets have been about Realms Deep 2020 & The Keep has been on board the whole time! It has been a long time coming, but the info is finally here for your viewing pleasure:
---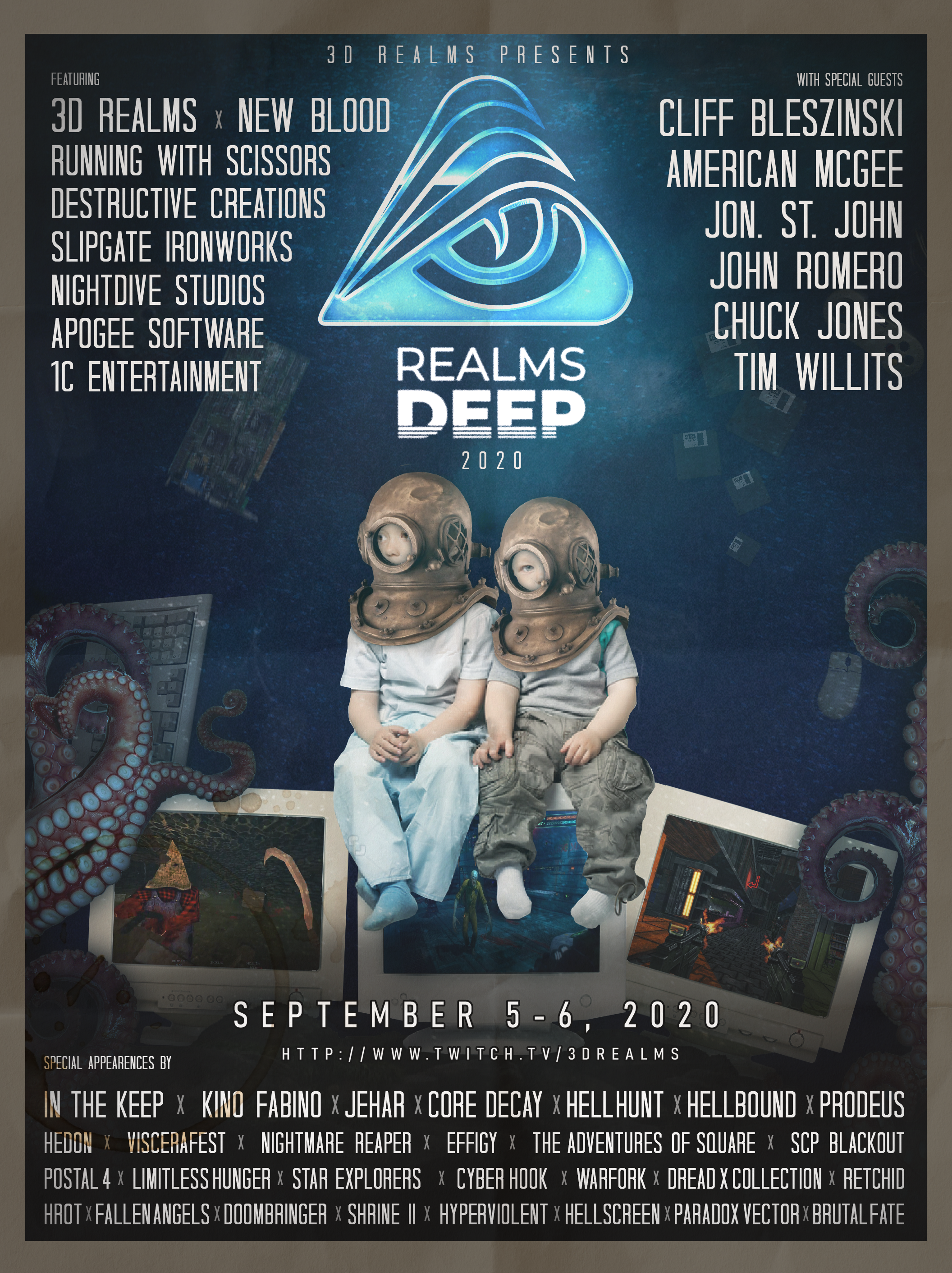 ---
In The Keep Podcast will feature short versions of our video interviews with CliffyB, American McGee, John Romero, Jon St. John, Chuck Jones & Tim Willits at the virtual convention which you can view LIVE on 3D Realms' official Twitch channel on September 5th & 6th for FREE. We will be uploading the FULL video interviews to our podcast directories, our YouTube channel & to 3D Realms' YouTube Channel.
As seen in the above poster, the event will also feature new content from 3D Realms, New Blood Interactive, Running With Scissors, Distructive Creations, Slipgate Ironworks, Nightdive Studios, Apogee Software & 1C Entertainment.
There will be a number of special events including our friend Jehar of TastyspleenTV covering a Retro-Shooter celebrity Deathmatch in Kingpin: Life of Crime, and memes by Kino Fabino.
---
---
3D Realms will be raising funds for the charity organization Child's Play during the stream. There will also be exclusive merch, giveaways and, of course, the obligatory giant Steam sale!
We must say THANK YOU to Fred Schreiber for this amazing opportunity. Our whole team has been working diligently to edit these podcasts, spruce up the website and make this event a truly special occasion. Our very own Apostle Spaced created the Realms Deep logo!
---
The Keep is getting a big break, but there will also be numerous indie devs showing off their projects at Realms Deep including games such as:
Core Decay
Hell Hunt
Hellbound
Prodeus
Hedon
Viscerafest
Nightmare Reaper
Effigy
The Adventures of Square
SCP Blackout
Postal 4: No Regerts
Limitless Hunger
Star Explorers
Cyber Hook
Warfork
Dread X Collection
Retchid
HROT
Fallen Angels
Doombringer
Shrine II
Hyperviolent
Hellscreen
Paradox Vector
Brutal Fate
---
Visit the official Realms Deep website.
Please consider joining us for the GREATEST GAMING EVENT OF THE SUMMER. If you TRULY love the Drowned God, we'll see you there…